On the strength of its considerable experience in documentary flows and logistics, Outils Océans offers training courses in documentary flows, logistics, working environments and facility management services.
These courses are targeted specifically at operators, departmental managers and work environment directors.
Check out our catalogue of training courses:
I Operator and Manager Courses
Module 1: Mail department operators
Module 2: Piloting Mail Operations – Mail Manager
Module 3: Information Security
II. Postage
Module 4: Mastering Postage Operations
Module 5: Mastering "Industrial Postage" operations
III. Paperless Processes
Module 6: N1-Digitisation operations – "Incoming Flows" on OPEX
Module 7: N2-Video encoding operations on KOFAX
Module 8: N3-Paperless workstation managers
Module 9: N4-OPEX, KOFAX and work station supervisor
Module 10: N5-OPEX, KOFAX and work station operatives
IV. Specific FM service provider training
Module 11: Processing and managing the "Document Survey" cell
Module 12: Organising and managing a mail service
Module 13: Replying to Postage call for tender
Téléchargez le catalogue de formations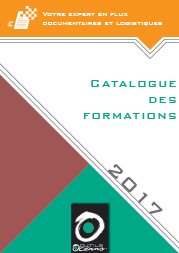 Our team is also available to draw up any custom-designed training sessions or programmes.