To arrange your workplace, Outils Océans uses the following professional process: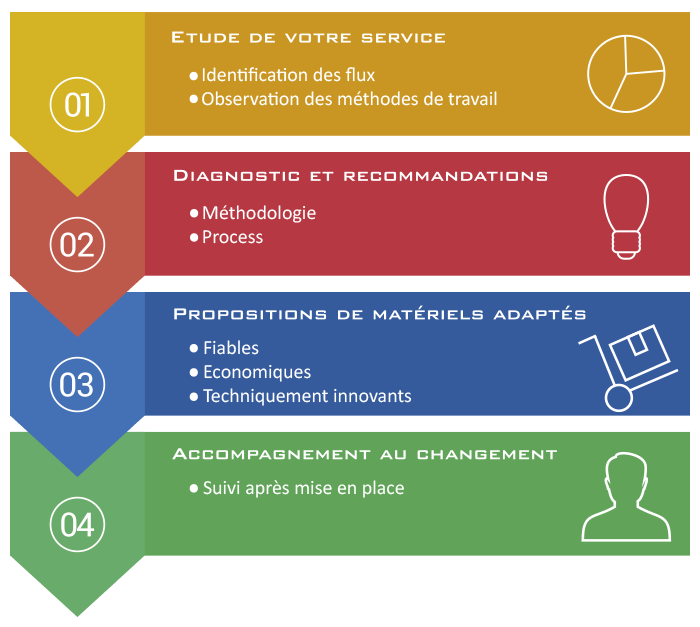 Our solutions are adapted to each step in the processing of your mail and logistics flows to meet the following objectives:
Ergonomics
Outils Océans is committed to meeting the ergonomic standards and recommendations of organisations such as INRS and to preventing repetitive strain injuries (RSI).
We apply these rules pragmatically which is why our customers appreciate our work. In designing work stations, we pay special attention to:
limiting heavy loads,
ensuring continuity,
eliminating awkward postures.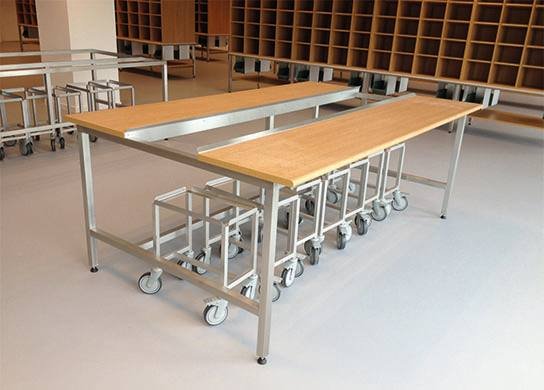 This is illustrated by the following examples:
number of sorting column pigeonholes according to the accessibility of the last pigeonhole,
work surface heights adapted to positions (standing, sitting), the task to be accomplished and its frequency,
operator movement protected using postformed edges, cut-outs or straight and rounded edges,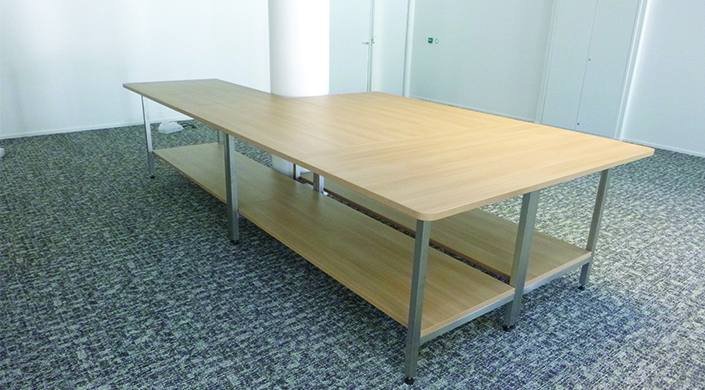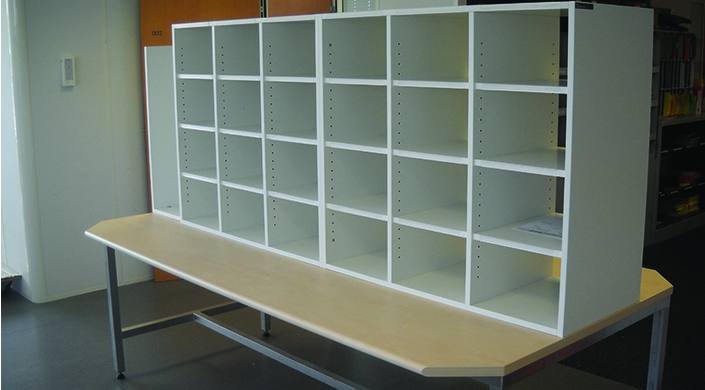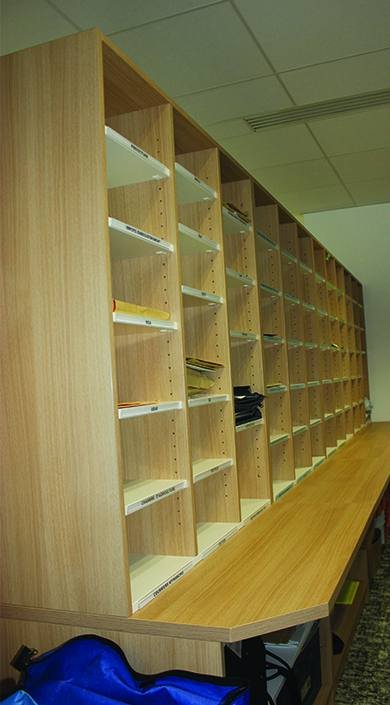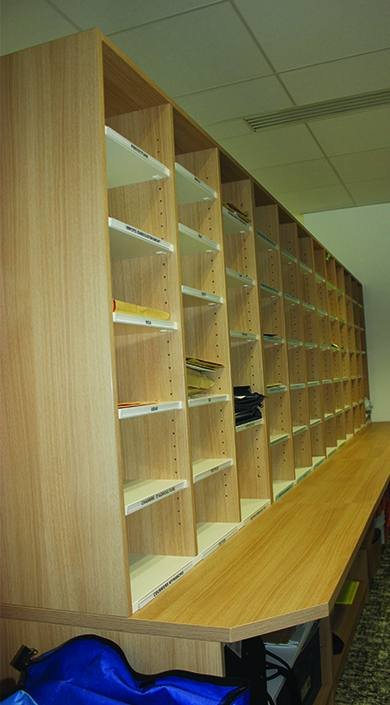 use of carts and trolleys.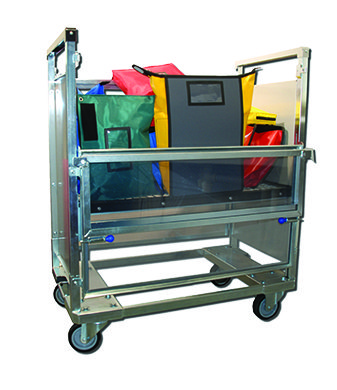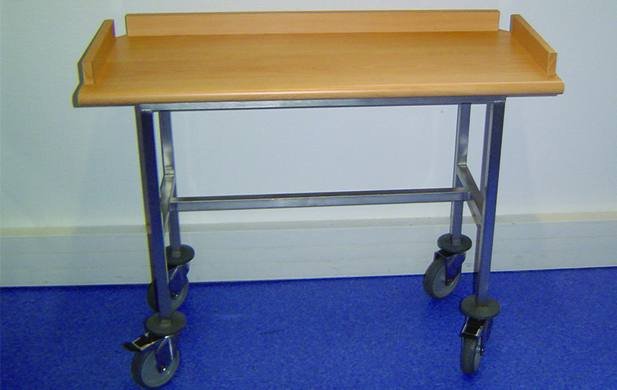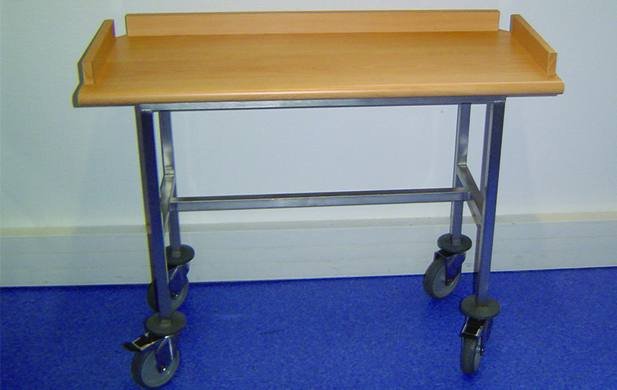 Our solutions are regularly submitted for approval to independent ergonomists and occupational health services.
Modularity
Sorting surfaces are modular:
Preferably organised into 2- or 3-column units to enable you to rearrange your workspace easily over time.
1 or more units can be added if additional space is needed.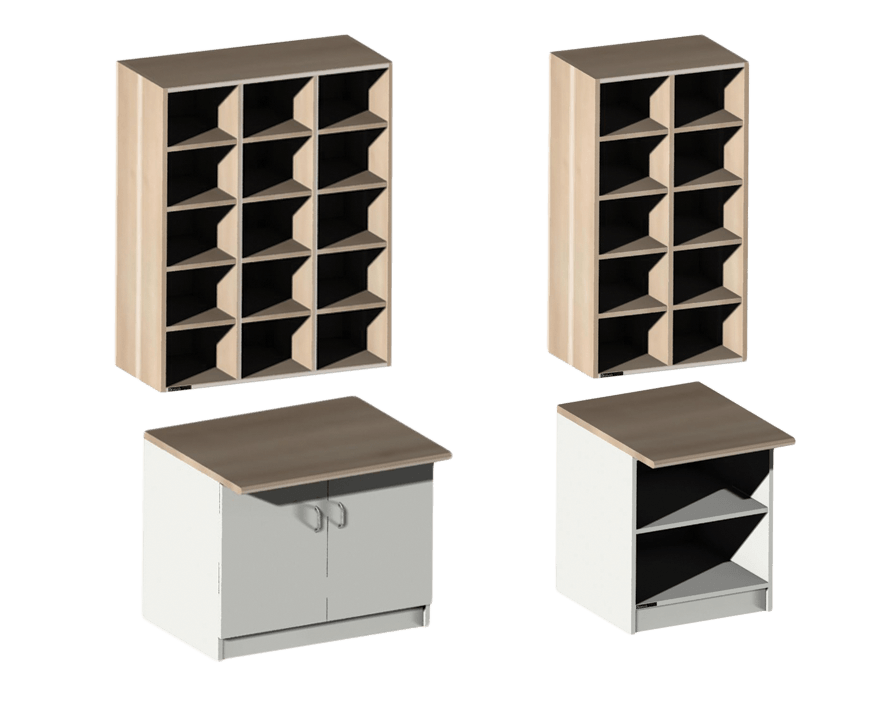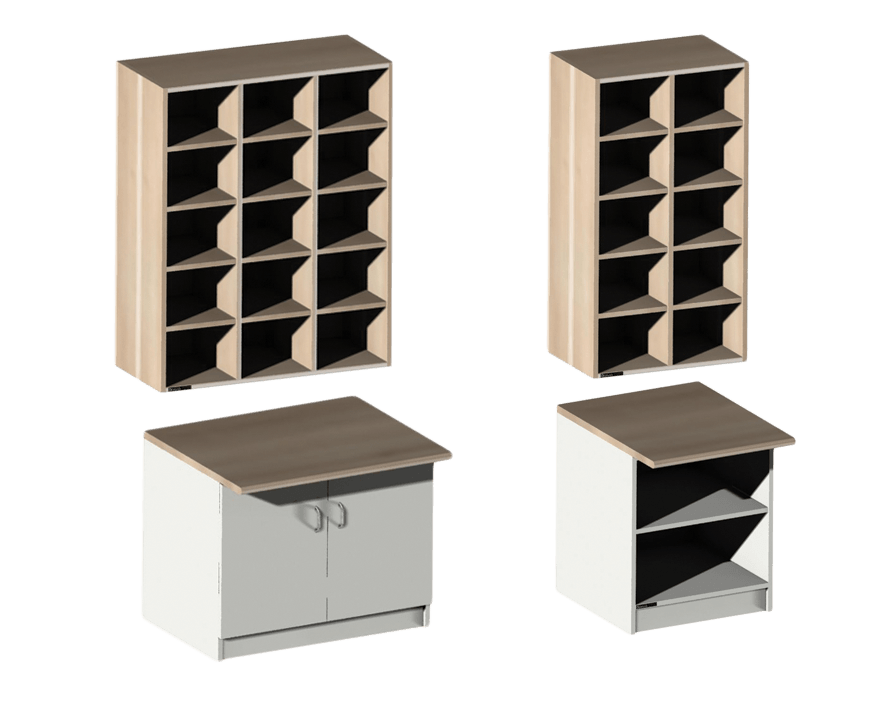 Top and bottom elements can be separated for moving. For adjustable wooden shelves (32 mm spacing), the adjusting and blocking systems are simple and safe: Metal studs fit into a block incorporated in the shelf and a safety flap closes to prevent tipping. No tools are required to adjust the shelves.
For plexiglass shelves, we supply "blocking" studs.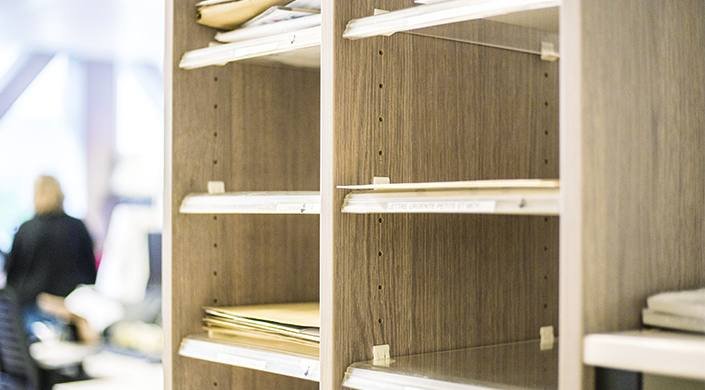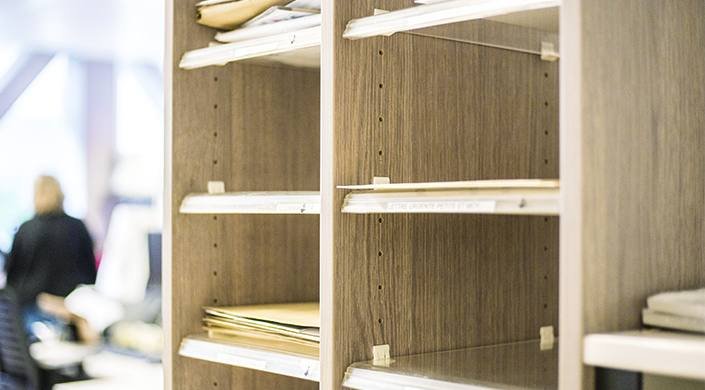 Space optimisation
Whatever the configuration of your mailroom, we adapt the furniture to suit the space available.
pillars integrated into work surfaces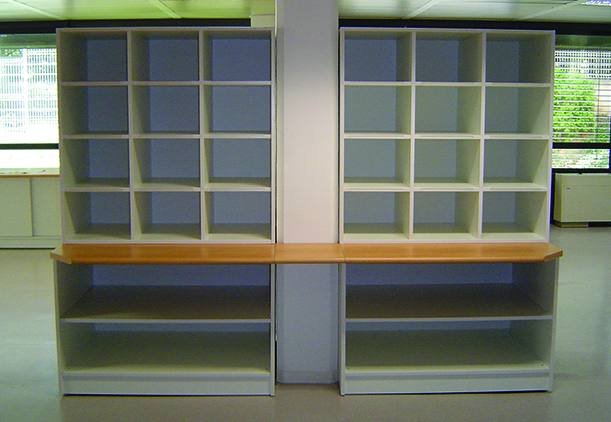 corner sorting units, L-shaped work stations
sliding work surfaces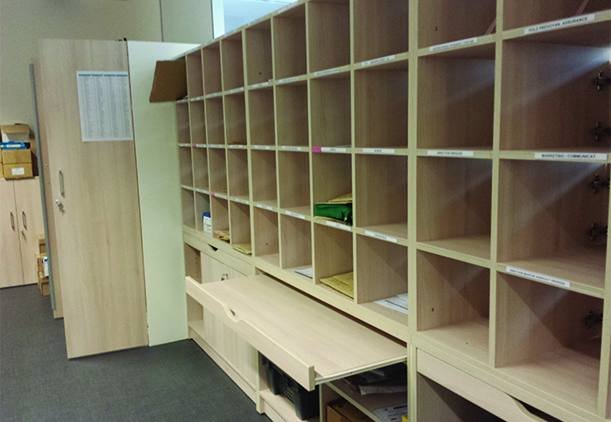 installation of stands: for trays, computers/screens, sorting units, etc.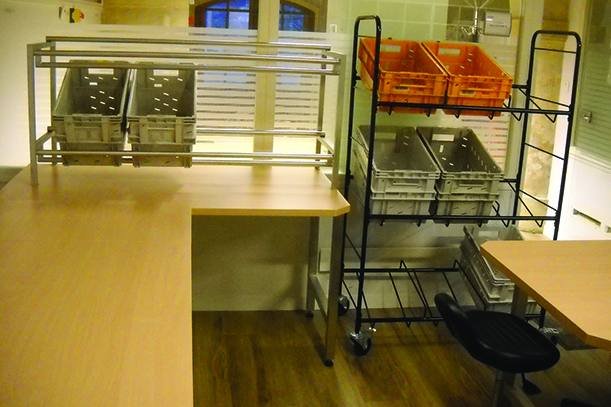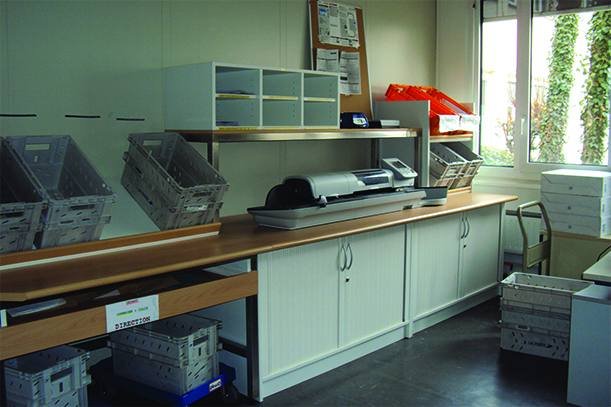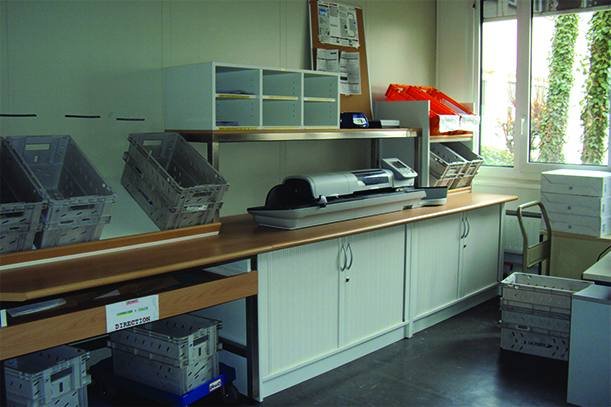 Quality and durability
Our solutions are designed for intensive use in a production environment.
The choice of materials enables us to guarantee the durability of our equipment.
30mm thick, postformed, stratified surfaces:

Better ergonomics than straight edges
Support for heavy loads such as organisers and machines

All edges are 2mm thick PVC for protection against shocks

Protection against shocks

Legs are 40 x 40 mm stainless steel tubes with 1 upper frame, lower stiffeners and adjustable feet:

Resistance to shocks and safety (no risk of paint flaking)
More robust and durable than desk-type legs or ordinary cylindrical table legs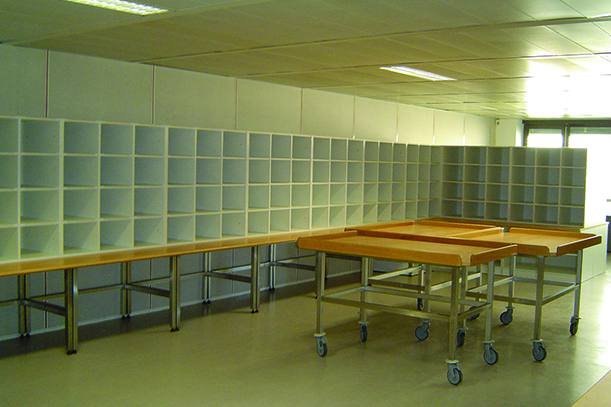 Rigid polycarbonate organiser indexes:

Longevity
Easy label changes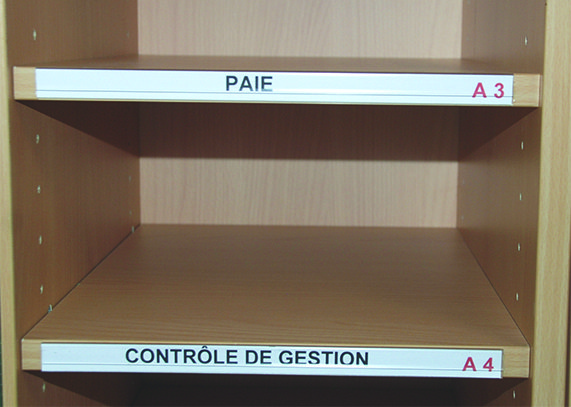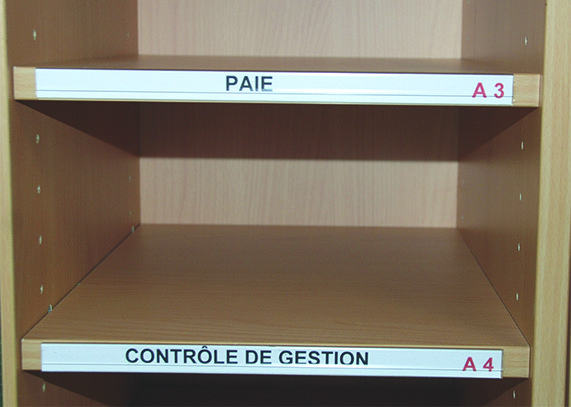 Shelves or transparent bottoms are made of 4 or 6 mm thickness acrylic glass

Resistance to loads (no deformation)
Longevity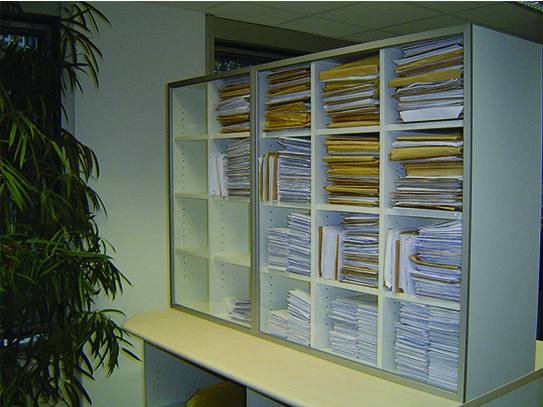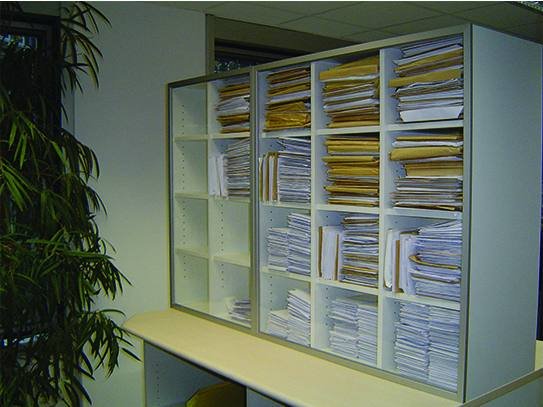 Complete on-site installation offers the best level of finish, including:

Rubber protections on row-end lower units exposed to mail cart circulation
PVC edge protection on floor unit plinths to prevent losing documents and facilitate cleaning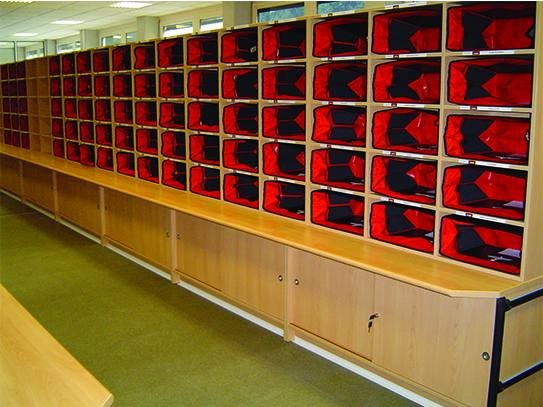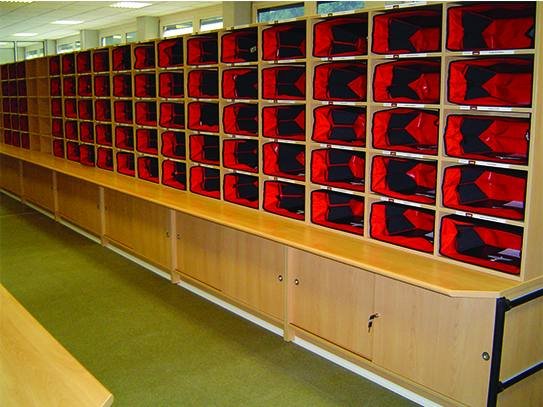 Return on investment
Our approach, based on a prior diagnosis of your working methods, allows us to offer solutions that optimise mail flows and task allocation.
Installation of new workstations to enhance ergonomics and employee well-being.
Improved working conditions
Team motivation