Following primary sorting, the mail is sorted a second and final time. Successive sorting operations rationalise the process. Primary sorting is done into separate spaces in the mailroom. Final sorting is done for all potential destinations and may be:
By name: name of an employee, agency, subsidiary, branch
By department: department name or abbreviation
Internal: internal postal address, usually an alphanumerical code
Office, agency number
Final sorting is done into sorting units or pigeonholes.
For modularity, we organise sorting surfaces into 2- or 3-column units to enable you to rearrange your workspace easily over time or move furniture.
1 or more units can be added if additional space is needed.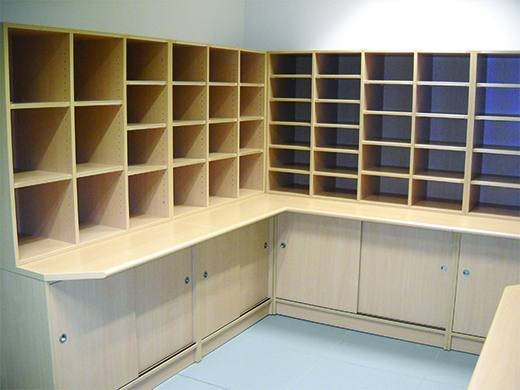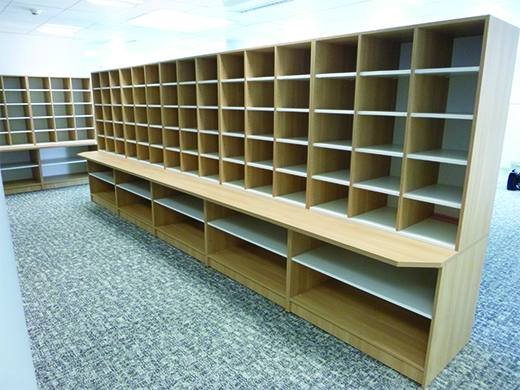 Sorting units are made of 19 mm thick melamine with 2 mm thick PVC edges for resistance to shocks due to sorting or mailbags.
Shelves are made of wood or plexiglass. Wooden shelves are preferable if you use mailbags. Plexiglass shelves are practical when pigeonholes are empty to ensure complete collection for mail delivery rounds. This is especially true for the top-most pigeonhole.
Wooden shelves can be fixed or adjustable in increments of 32 mm. The adjusting/blocking system is simple and safe: Metal studs fit into a block incorporated in the shelf and a safety flap closes to prevent tipping. No tools are required to adjust the shelves.
For plexiglass shelves, we supply "blocking" studs.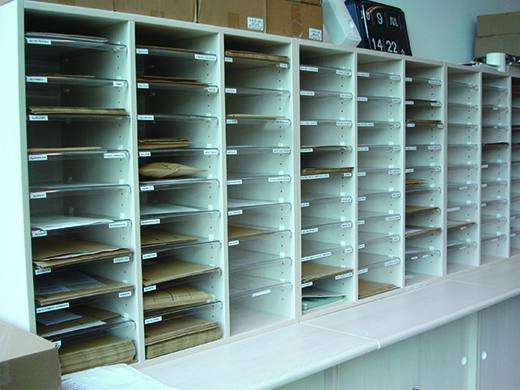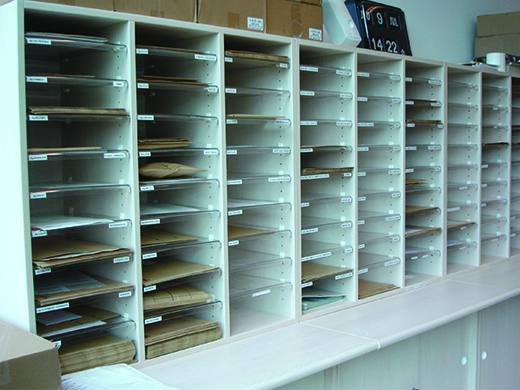 To display instructions or lists, we offer plexiglass frames fixed to the top of the unit. This way, the information remains visible.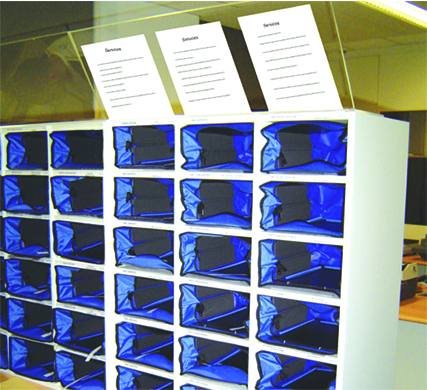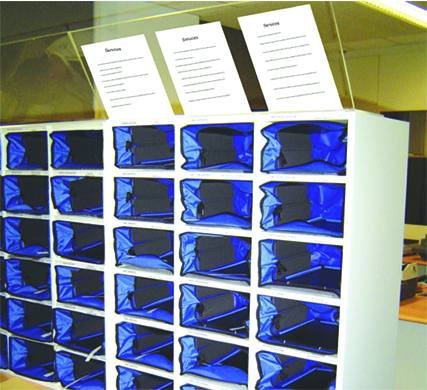 Pigeonholes are clearly labelled by means of rigid polycarbonate index holders. Labels can easily be changed in these robust holders.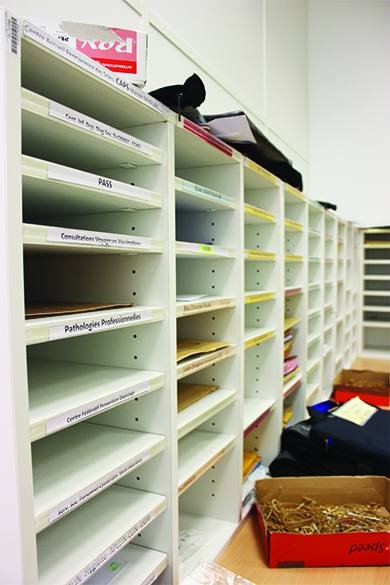 When space constraints require one or units to be placed against a window, we add a plexiglass back.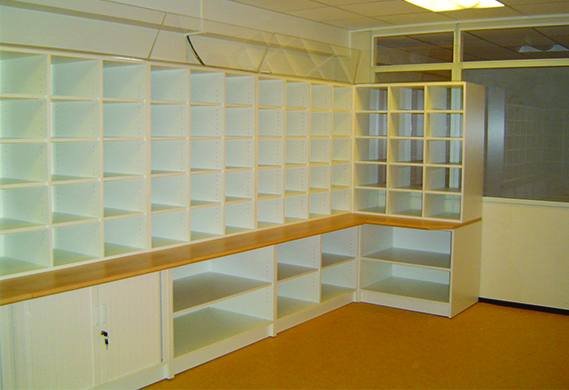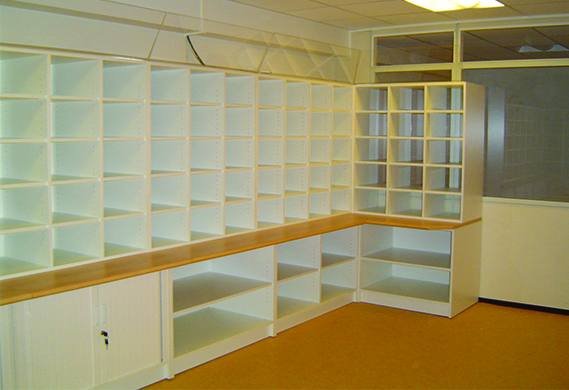 Units can be supported on feet or furniture and worksurfaces can be placed on top. Support units can be fitted with sliding doors or PVC side shutters and locks. When there is no work surface, we recommend using mobile trolleys or tray carts.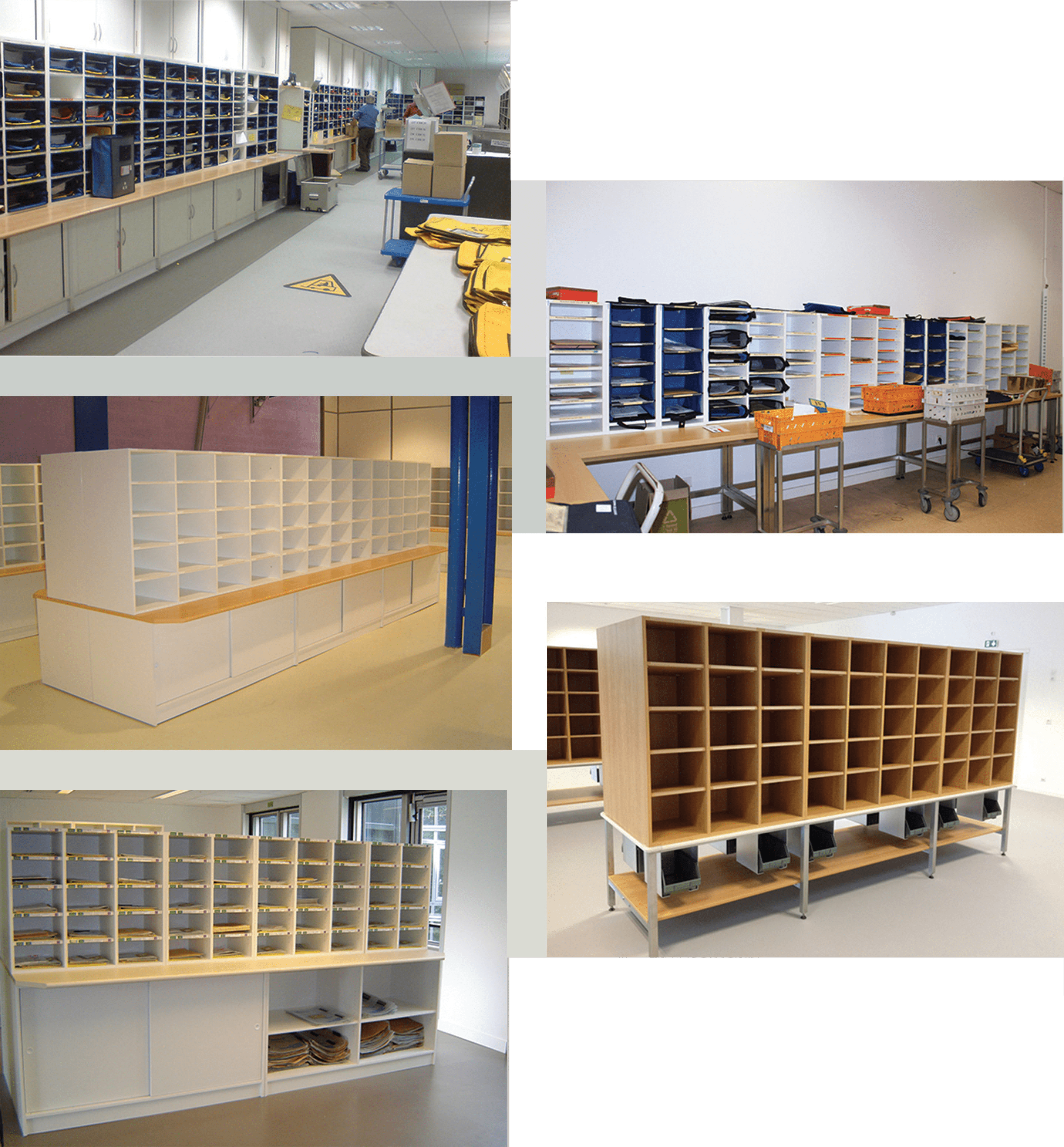 The working position at the final sorting stations is usually standing or on a high-rise task chair as the operator needs to move freely between a line of units.
To further optimise workstation ergonomics, we offer height-adjustable legs to suit each operator.
Adjustable legs are robust and have been specially selected to support heavy loads (sorting units filled with mail and documents) and intensive use in the mailroom environment. They can be adjusted manually using an Allen key or lever or electrically with a motor and control unit. For electrically adjusted legs, work heights can be memorised.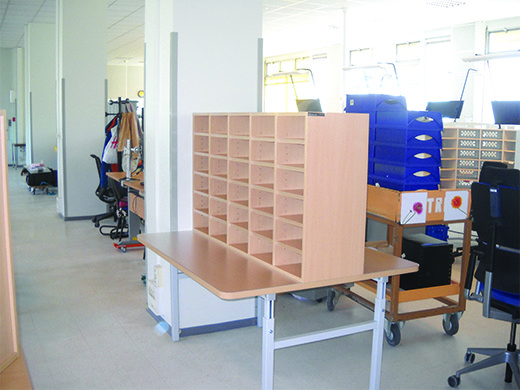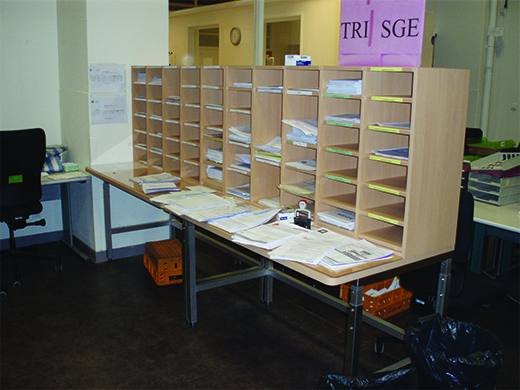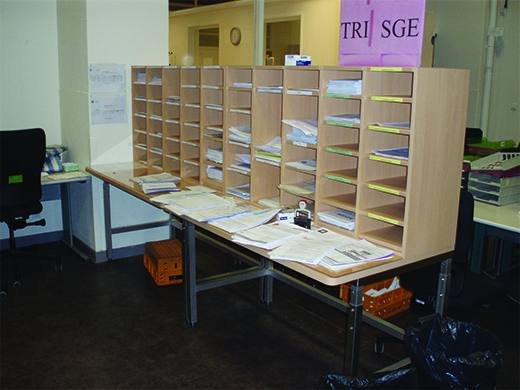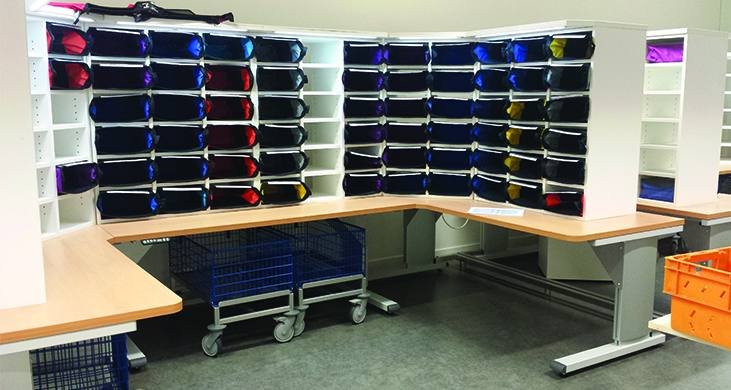 In occupational health committees, some operators complain of visual fatigue at sorting stations. To enhance user comfort, providing electricity at the sorting stations enables LED lighting to be included to improve visibility of pigeonhole labels and documents on the work surface.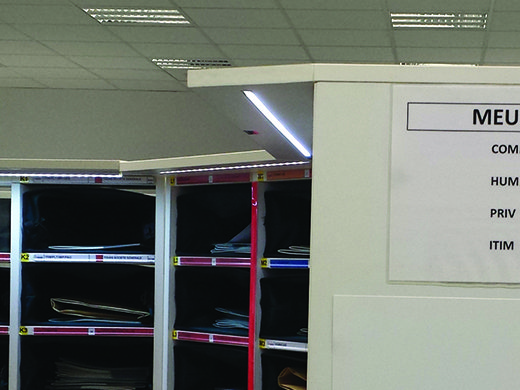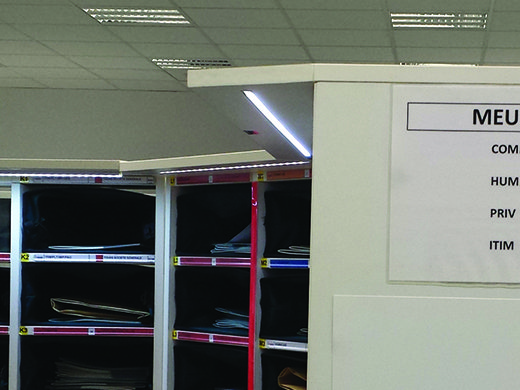 The aim of the task is not just to fill pigeonholes: they also need to be emptied to deliver the mail.
For this reason, we recommend direct sorting. This consists of placing a wide-open transport container in each pigeonhole.
Outils Océans has created the round-trip mail pouch that fits perfectly into pigeonholes with a single push and no attachment. After sorting, the round-trip mail pouch can be closed in a single gesture, removed from the pigeonhole and sent on its way.
The round-trip mail pouch can be used on site (within a building) or between sites (to an external site, an agency, subsidiary, branch, sales outlet).
The round-trip mail pouch generates gains in productivity and organises mail delivery rounds.
A revolutionary 3-in-1 solution, developed by Outils Océans to sort, deliver and collect your mail: the collapsible sorting unit.
With its own support column, it acts as a sorting unit in the mailroom. Without the column, it acts as a transport bag. Placed in the column, it becomes a mail delivery and collection system.
Finally, as for primary sorting, depending on the complexity, the number of sorting criteria and the frequency of changes to the sorting surface, final sorting operators may be assisted by the vocal system Facilitri.