Handling
The simplest L-shaped handling carts for your packages are available in 4 models offering a choice of dimensions and configurations:
fold-down back (ref 4211), adjustable upper wire platform (ref 5231).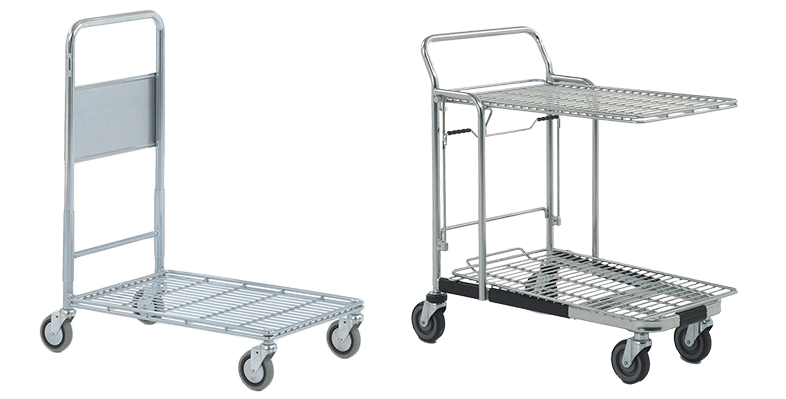 For handling pouches and return-trip mailbags, wire-cage carts are ideal. The range starts with the multiservice wire-cage cart (ref 6246). It has 4 closed sides.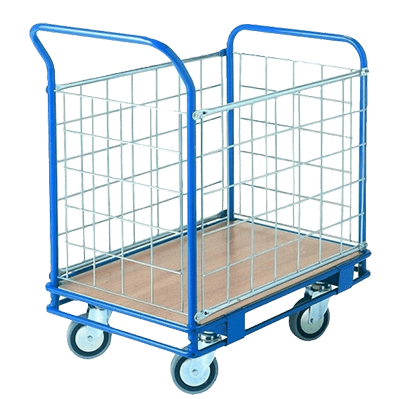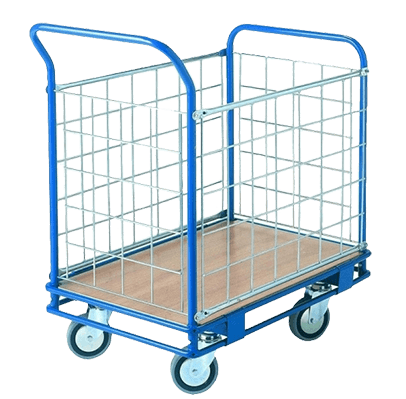 Two other models with half-flaps complete the range with capacities of 300 or 500 kg (ref 5856 and 5857).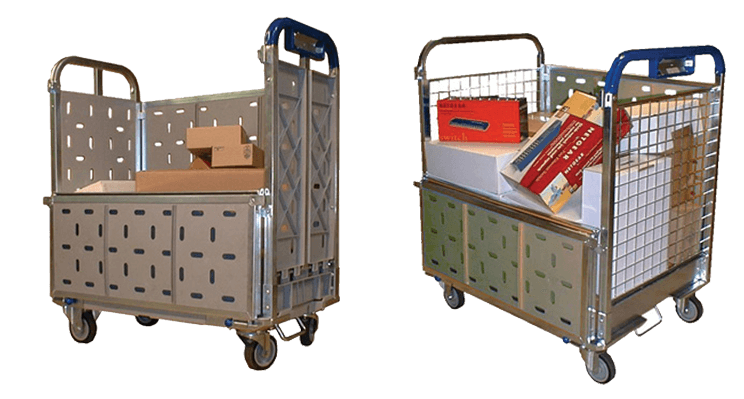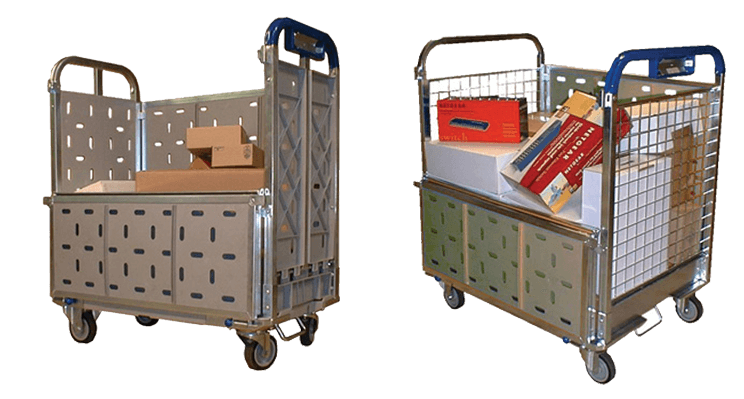 To prevent strain and awkward postures, opt for the bottom-lift cart (ref 3292) also available on request for postal bins.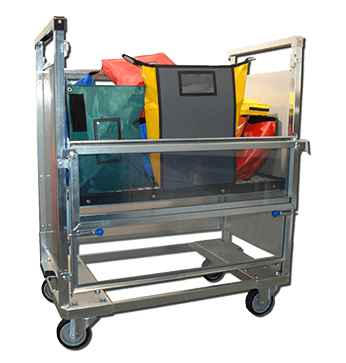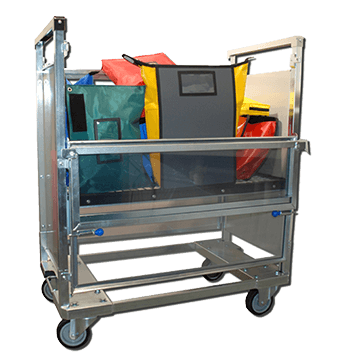 For mixed handling of packages and containers, the handcarts (ref 1736 and 6326) and the modular multi-use cart (ref 6776) are the ones for you.
For mail rounds, the hard carts can be folded and are fitted with two fold-down levels.
To use the same cart for handling packages and delivering mail, the modular multi-use cart can be adjusted in the blink of an eye. Thus you can use the same mail cart for different purposes at different times of the day.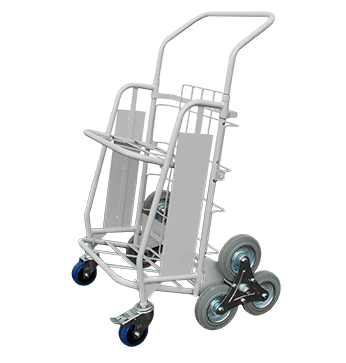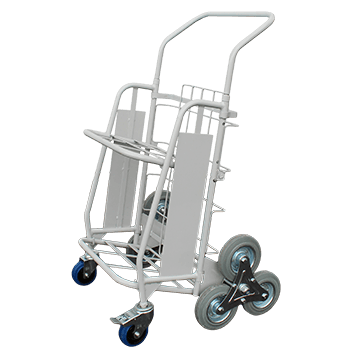 Trolleys
For use with trays, the trolley (ref 5374) or the individual tray cart (ref 1823, 3914 and 3915) are a first step towards preventing RSIs.
There are models available for different trays (European or French post norms) and a model for 2 inclined postal trays. Fixed-level trolleys are recommended by ergonomists and occupational health for transporting items from one sorting station to the next and standing at sorting stations.
Distribution & Collection
To deliver and collect mail, we have a wide range of basket trolleys to cover all your needs.
The compact 2-basket distribution cart comes in 2 models (ref 6328 with 2 large rear wheels, ref 6329 with star-shaped rear wheels for climbing stairs). Baskets can be fitted with optional covers for all-weather protection.

Do you prefer covered trays? They can be used in place of baskets.
If the volume of mail requires it or if your mail rounds include multiple delivery points, the large-capacity distribution-collection trolley is right for you.
The basic model (ref 3809) is fitted with 2 large baskets (1 upper and 1 lower) and a rear basket.
To facilitate collection of pre-sorted mail, there are 2 models with 1 shelf (ref 5850) or 2 shelves and collection trays. The single-shelf model can also carry packages on the lower level.
For time saving and optimal mail round organisation, round-trip mail bags can be used for direct sorting. After sorting, they can be closed in a single movement and stored vertically in the basket trolley in the order of the mail round. An index can be used for destinations. At the mailroom, the previously emptied round-trip mail bag can be used to collect outgoing mail, and the mail bag containing incoming mail is delivered. Just exchange the round-trip mail bags.
Alternatively, robust suspended file kits can be made on request.
Do you need to collect and deliver documents or loose mail? The 3-basket trolley is both compact and offers 96L of loading capacity. Like the 2-basket compact trolley, it comes with 2 rear wheels (ref 3526) or with 6 star-shaped rear wheels for climbing stairs (ref 6333).
For outdoor use, we can fit your trolley with a robust, waterproof cover.
Can you still not find the right trolley for your needs? The modular multi-use trolley has the solution.
The basic L-shaped model is a handling cart with 1 non-slip shelf. Add an upper basket for mail collection and delivery (ref 6777).
Postage
Whether for pre-sorting before franking or classification of post at the franking station, trolleys with inclined postage trays are perfectly suited.
They are available with 6 to 12 postage trays on 3 levels (ref 6334, 6335, 6336). For intensive use, the model 5853 offers a central brake and a super robust frame.
To use your trolleys for postage trays and European standard trays, the model 5441 can carry 9 postage trays or 6 or 12 standard European trays with the additional shelf (ref 5442).
A lower basket can also be added (ref 6778).