Designed from traditional bags, the Outils Océans mail bags offer better service with their innovative design and modern materials.
Mail bags can be made to order: dimensions, materials, flat bottom, square bottom, semi-rigid sliding bottom, carry handles, seal eyelets, etc. Some advice for choosing the bag for your application :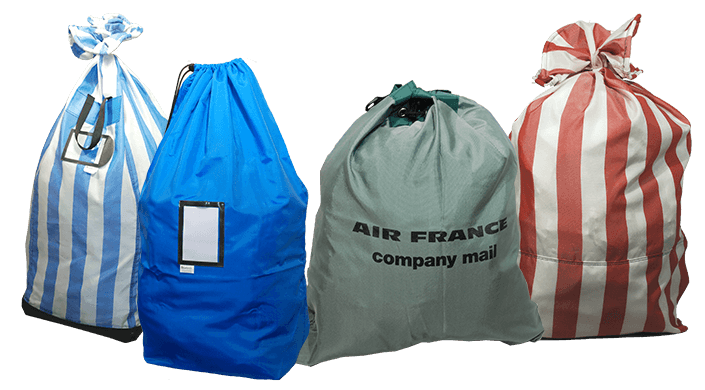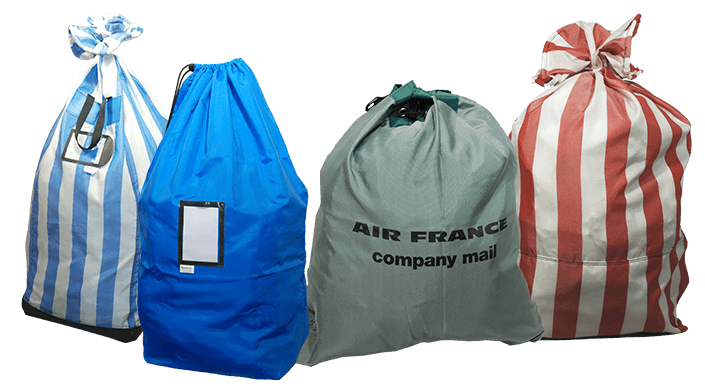 What dimensions?
Possible dimensions depend on the materials chosen for manufacture.
Single-side PVC-coated polyamide and 2-sided PVC-coated polyester: we can make any dimensions required.
Woven polypropylene: we can provide bags of width 70 or 80 cm for flat bags and 30×30, 35×35 or 40×40 for square-bottom bags.
All heights can be provided.
Contact us for the colours available for each width.
What materials?
We offer 3 types of material depending on the use:
Single-sided PVC-coated polyamide:

suitable for the body of small-sized bags,
used for making covers with eyelets (see §3).

 Double-sided PVC-coated polyester:

suitable for large-sized bags,
used to make highly robust lined bottoms,
the strongest material, but also the heaviest.

Woven polypropylene:

suitable for bags of all sizes,
both the strongest and lightest material,
although not as tough as tarp for pointed items,
woven polypropylene cannot be fitted with eyelets or snap fasteners.
Which closing and sealing system?
We offer 4 closing systems for use with mail bags depending on the material used at the top of the bag (at the opening), according to the compatibility table below: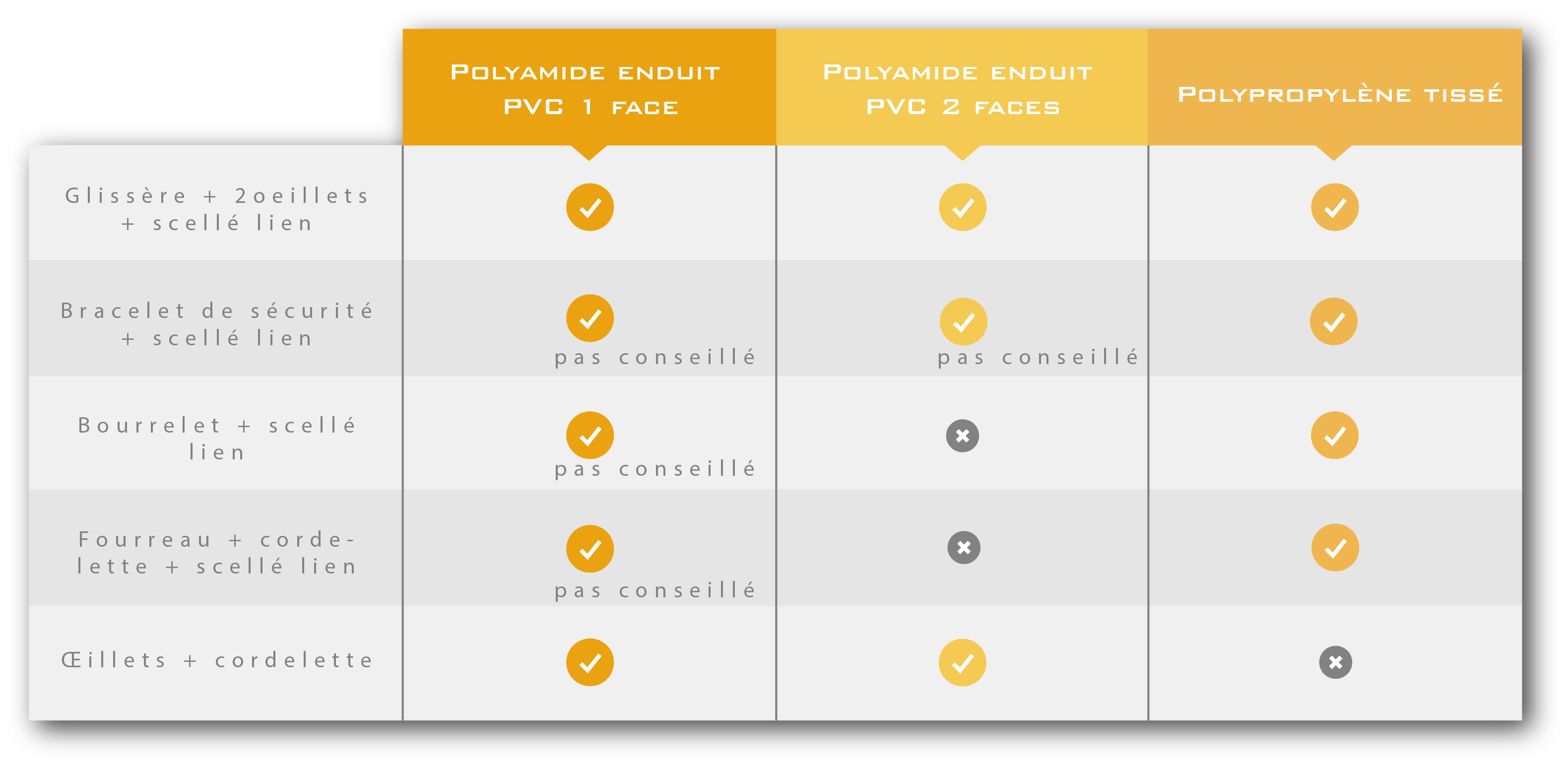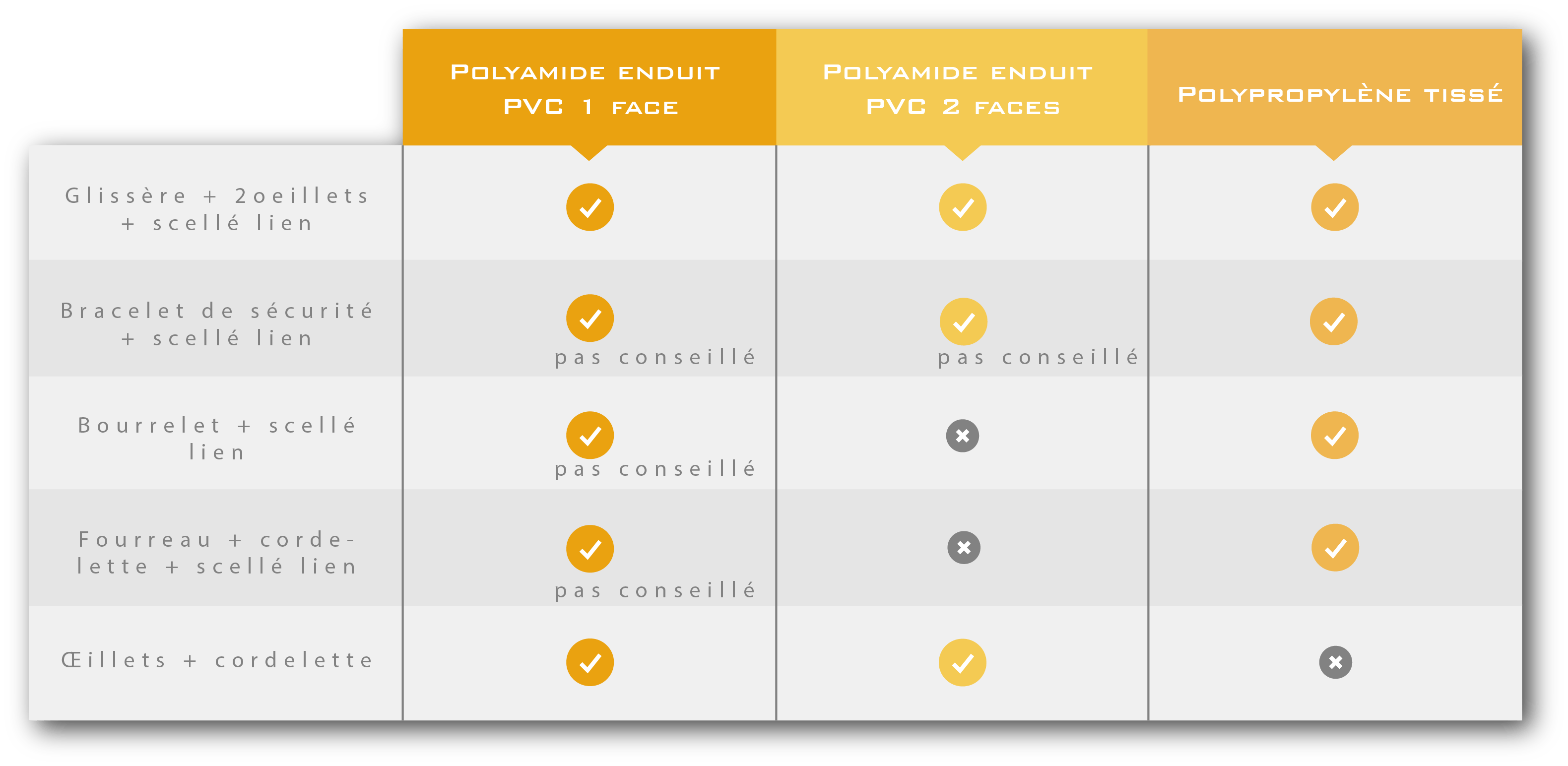 Which address system?
We offer external or internal label holders.
Internal label holders can be fitted with a flap. External label holders can be closed using snap fasteners or velcro. Once again, compatibility with the bag body material is important.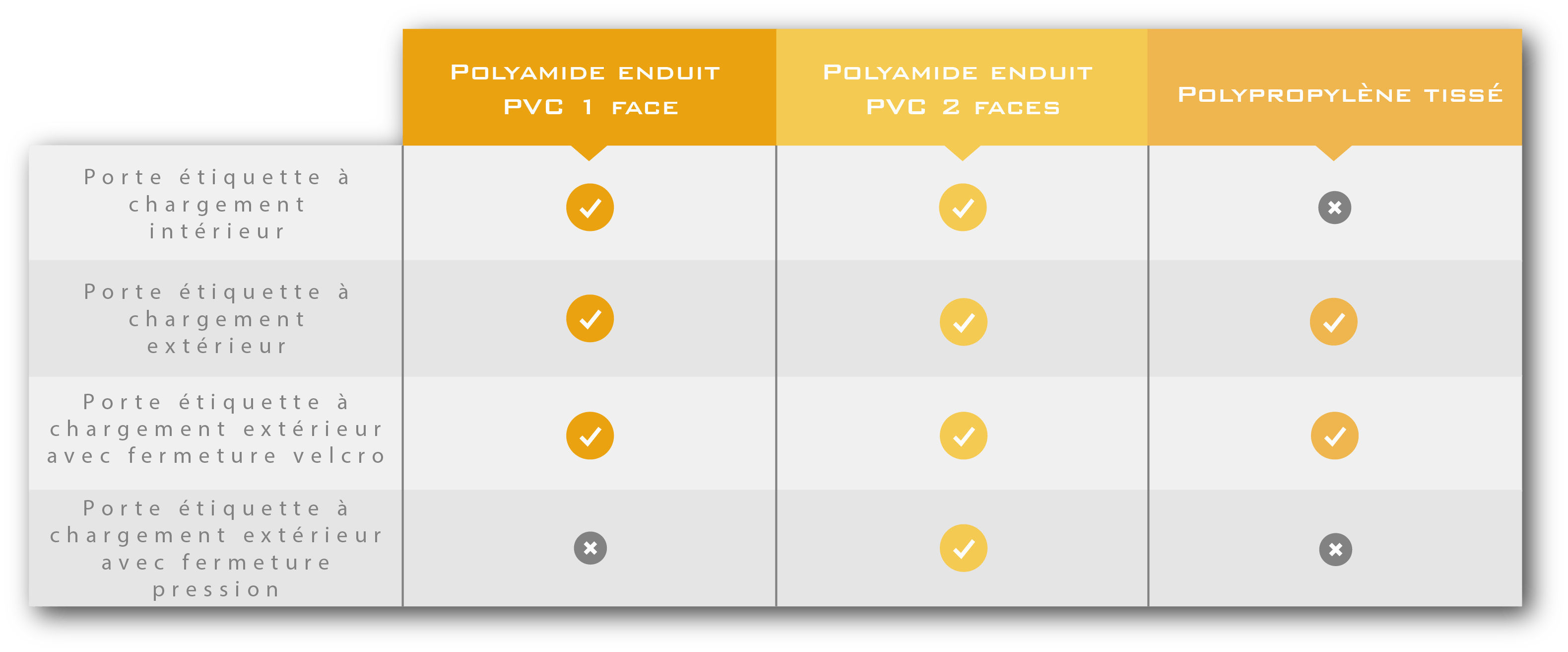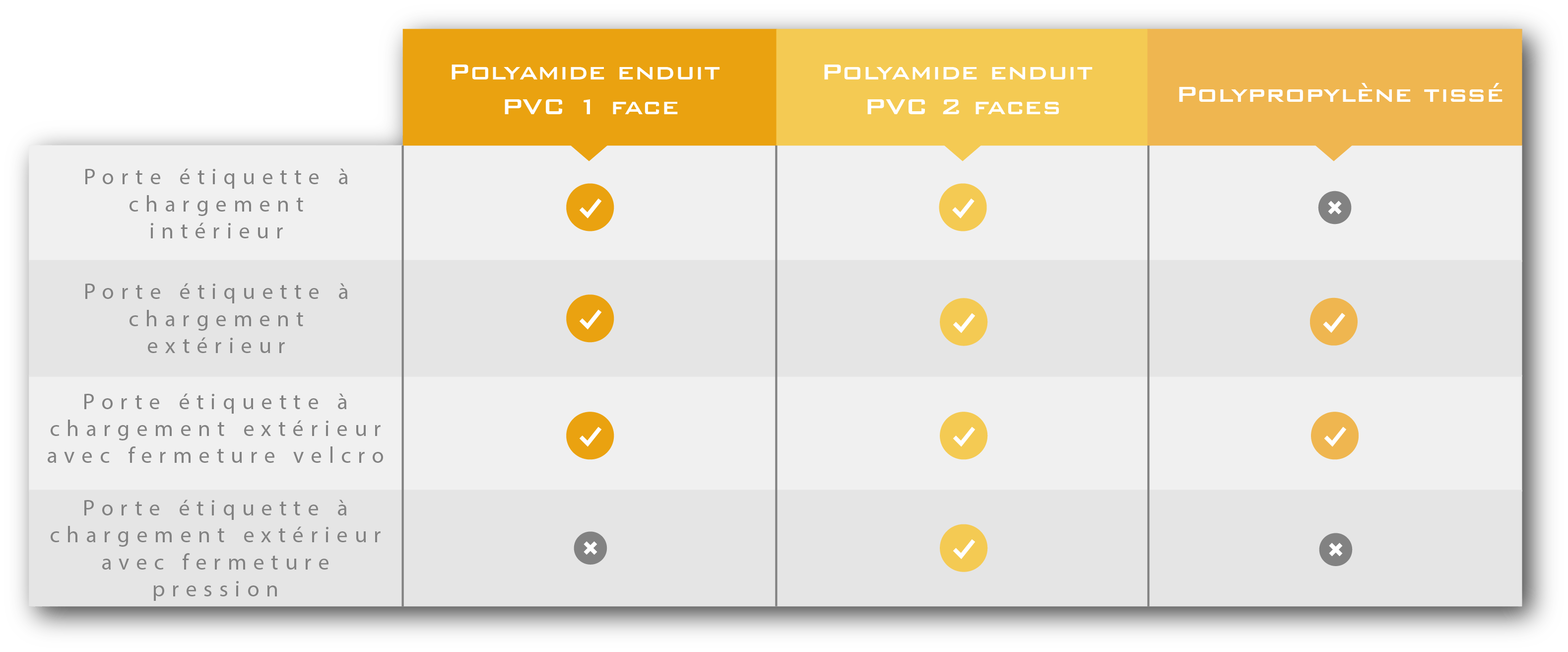 Other Options
Carry handles :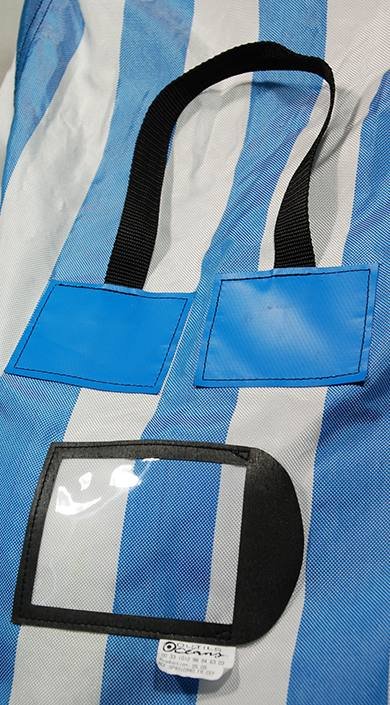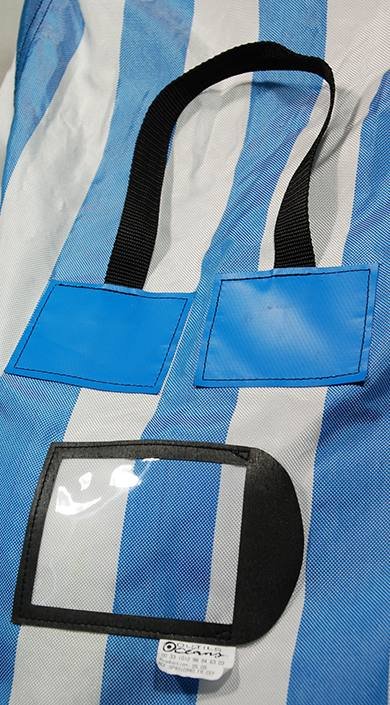 Bottom lined with Woven polypropylene :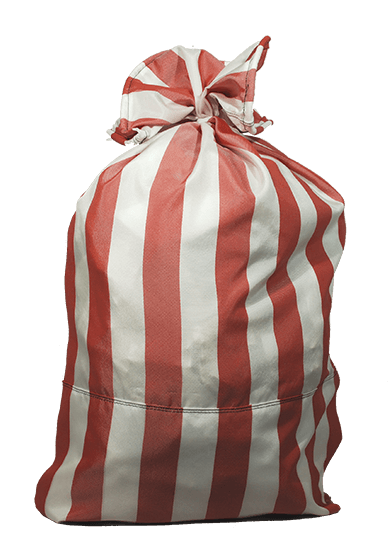 Bottom lined with double-sided PVC-coated polyester (TARP) :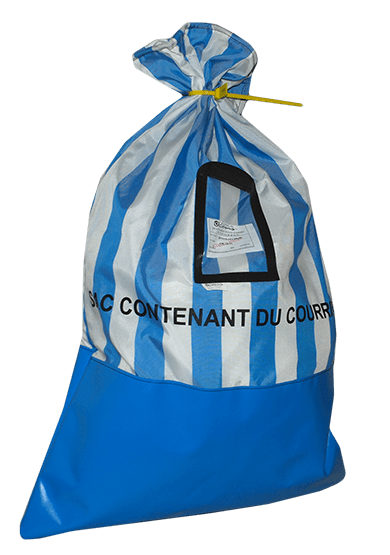 Hard polyethylene 18/10 bottom :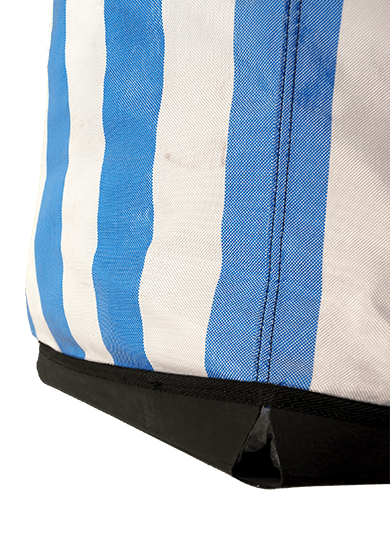 Screen-Print Customisation
On single-sided PVC-coated polyamide and on double-sided PVC-coated polyester: all colours are possible
On woven polypropylene: black only.